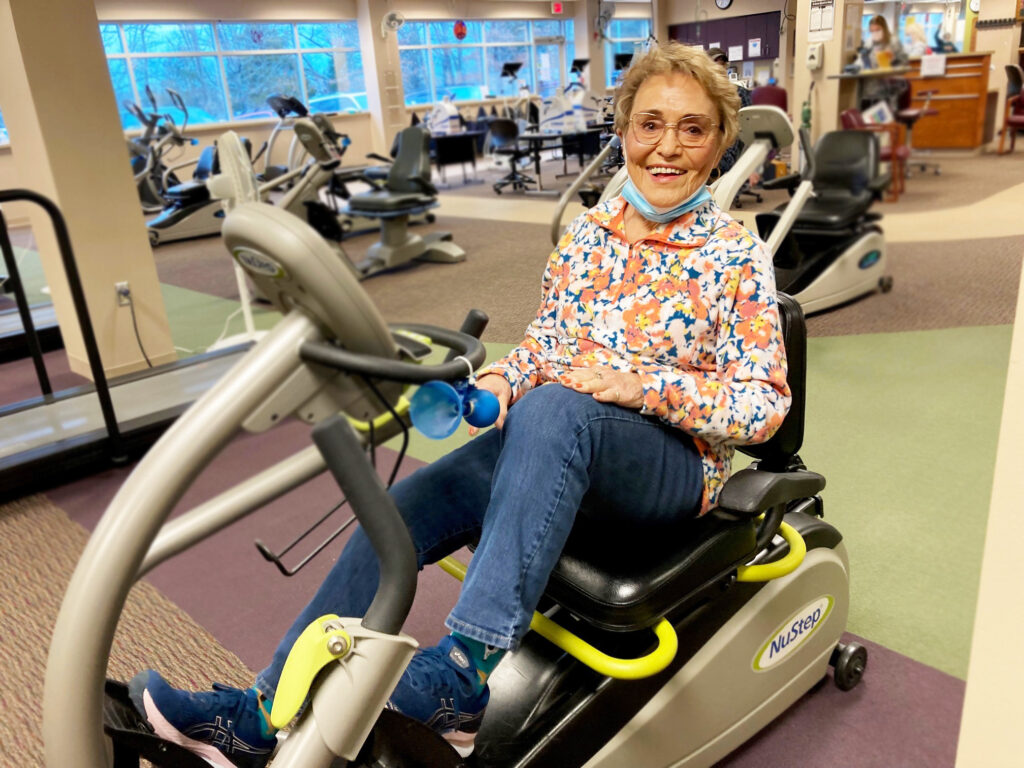 Barbara Starrett is not interested in slowing down.

Starrett spent 30 years as an elementary school teacher – 15 years in Mansfield and 15 years in Hollister – before retiring. Today, she likes to keep busy by spending time with friends and family, attending Bible studies and watching her great-grandchildren play sports. For the last few years though, she wasn't able to be as active as she wanted.

"I had some health issues," Starrett said. "Really, for the last couple of years, I haven't been doing as much as I'd like."

As the result of the health issues, Starrett struggled with shortness of breath. That's when her pulmonologist recommended her for CoxHealth Cardiac and Pulmonary Rehab in Branson, a 12-week supervised exercise program.

At rehab, Starrett is guided and monitored by a registered nurse and respiratory therapist through a customized exercise plan. She's also given breathing exercises to help her regain her strength, energy and lung capacity.

"It's taken a while to see change, but I can really see it now," said Starrett, who is about halfway through the program. "I've noticed in my daily activities my breathing is better and I'm feeling better."
She's happy to be returning to a more normal pace of life.

"I had a music party yesterday and a Bible study a couple of weeks ago," she said. "When you are used to doing things and having people around, and then you don't feel as good, it's hard. I don't think I ever got depressed, but it sure was boring."

Rehab Manager Hollie Holderfield explained that Cardiac and Pulmonary Rehab is more than an exercise program. For patients who need it, it is life changing. The 12-week program includes education, nutrition counseling, stress management and other lifestyle changes designed to prevent or reverse progression of pulmonary or cardiac diseases.

"Cardiac Rehab has health benefits with a 25 percent reduction in all-cause mortality rates," Holderfield said. "Patients gain knowledge about their disease and how to manage their risk factors. Rehab improves quality of daily living and quality of life, so it's great seeing people like Barbara get back to doing the things she loves."

Starrett isn't just grateful to be getting her health back, she's grateful for the financial support she received through Skaggs Foundation, which offset the costs of rehab.

"With my teacher retirement, I really couldn't afford to do this," she said. "This help, it's really a big thing to me."

Without the financial assistance from Skaggs Foundation, many patients like Starrett would not be able to participate in the rehab program. Through a Skaggs Legacy Endowment grant, between Dec. 1, 2021-Nov. 30, 2022, Skaggs Foundation was able to offset rehab costs for 118 patients like Starrett.

"Skaggs Foundation removes this barrier so patients are able to have access to this life changing program," Holderfield said.